Speech of the Month, December 2020 - Matt Hancock
You might not like the message, but Matt Hancock's updates are crystal clear. Here's how he does it...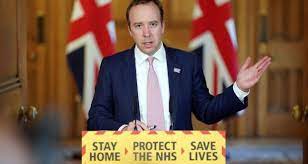 Guess what I did over Christmas? Arranged my larder cupboard! Before you work up a pang of pity for me, don't. Being able to get my mitts on my marjoram without poking a Variety Pack out of the way and thereby knocking over a half full bag of sugar is something I'm very happy about.
As I was doing this job, I was reminded of how important order is in public speaking too, particularly when you have to give an update. That's why I've chosen Matt Hancock as my speaker of the month; what he lacks in charisma, he makes up for in order!
If you didn't see his briefing on 23 December, then check it out now so the tips I'm giving make more sense.
Make a case for your information
When Hancock starts his briefing, he doesn't start be telling us about the changes to the tiering system that are about to happen, though that is the point of his briefing. Rather, he makes a case for that information. So he opens by telling us that Coronavirus cases have risen by 57%, that there are almost as many people in hospital now with Covid-19 as there were at the height of the peak, and that the day before 691 people in the UK died of the virus. This small amount of information is clear, visual and makes us realise that something needs to be done, this condition can't continue.
When you are presenting an update, consider what overarching case can be made for your information. The more disparate that information, the more difficult it is to make one case, but it could be something as simple as a competitor's last quarter's figures were better than ours, so let's do our best to turn that position around.
Countdown the information
"So there are four areas I want to update you on today. The first…" Hancock says. The countdown structure lends itself brilliantly to informative talks. Simply tell your audience / viewers how many points or issues you're going to talk them through, and then do it. This helps you to order your material and it makes it easy for listeners to absorb it.
But if you use the countdown structure, make sure you call out those all-important numbers. If Hancock segued from point 2 to point 3 without announcing point 3, then when he announces his fourth point, there's going to be confusion. And if this isn't obvious, make your most important point first.
With a brief summary of each point, an update could end here. But if the information you've given is difficult and bound to be unwanted, then make like Matt and do the following…
Recognise that the info is going to sting
After delivering his fourth update area, Hancock changes gear tonally and says, "I sincerely hope that this is my last press conference for some time" and goes on to admit that the fallout of his information isn't going to be pleasant and he empathises. He then thanks the public and the scientists he's been working with for the steps they've taken to end the pandemic.
This phase of his talk is important. Although he's making an informative speech, if people aren't persuaded to follow the information, then he's in trouble. And people aren't going to be persuaded by a demanding, unfeeling speaker. So if you have information to impart that might sting, consider inserting a section that recognises that pain.
Echo the case you made at the top of your talk
Hancock opened by telling us how bad the coronavirus figures were, hence why drastic 'tier' action needed to happen. But he ends by saying, "2021 is going to be tough. But we know we're going to get through it. I know from the bottom of my heart that brighter times are ahead." So he's echoing his opener by reiterating how grave the situation is, but he's giving optimism. And projecting optimism is important. As a species we are innately hopeful, and in dark times it's helpful to tap into hope.
"I have known Emma a long time, and she is my 'go to girl' for all things public speaking/presenting. At the University of Salford she would help us prepare our Graduation presenters - inspiring them, giving them strategies to cope under the spotlight and confidence to deliver. At UCLan, Emma delivered a workshop aimed at helping us teaching staff to 'use our voices' - and I still do the exercises in the car travelling to work. She is a joy to work with, always delivers, 'tailors' her approach (and yes a deliberate pun) and is really empathetic with her clients. What's not to like?"