Speech of the Month, May 2019 - Theresa May
The public speaking lesson we can all learn from Theresa May's resignation speech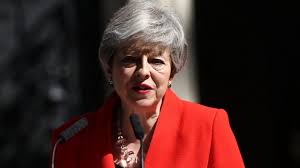 Speech of the Month's purpose is to take a great speech that everyone can access so that I can pick out elements of it that we can all learn from and use to make our everyday presentations and contributions more effective.
For May '19 I've chosen to look at Theresa May's resignation speech. It wasn't an especially great speech; critics will say she used the address to make excuses for her failings and point the finger of blame too much. But, for someone who isn't a natural orator and never looked comfortable being in the spotlight, I think she got a few things very right, and they're all things we should remember to do.
Link yourself to someone the audience will admire
So May is very keen for us to know that the reason she couldn't deliver Brexit is because those she had to work with wouldn't compromise. From here she segues into a story about her one time constituent, Sir Nicholas Winton, the architect of Kindertransport, who took her to one side after a meeting and said, "Never forget that compromise is not a dirty word. Life depends on compromise." By doing this what she's saying is, 'Sir Nicholas Winton is a complete hero who bothered to take the time to share his wisdom with humble old me because he sensed that I was sensible enough to digest them.' By linking herself to the man who rescued almost 700 children from the Nazis, she's boosting her ethos appeal.
This is a technique that's easy to use. Think about who you've worked with that your audience would admire and refer to them subtly. This is something I'd do regularly when lecturing a new cohort of students, I'd refer to TV shows I'd worked on and largely they'd be impressed which would mean they'd see me as a credible source of information and therefore want to listen to what I had to say. But it's important to know your audience; I once quite proudly told a group of Tory councillors that I was training that I was writing an episode of the TV drama Shameless. The delegate nearest me reached over, patted my hand sympathetically and said, "Never mind. We've all got to start somewhere."
Reassure your audience
Even when you purposely choose to shock or worry your audience in order to motivate it, you still need to reassure it otherwise it will leave your speech feeling deflated and not geared up to do the very thing you'd like it to.
Any leader leaving office is going to cause some nervousness and disquiet. May recognises this when she says, "Our politics may be under strain but there is so much that is good about this country. So much to be proud of. So much to be optimistic about."
End on an emotive note
I'm sure May had no idea that the words "to have had to opportunity to serve the country I love" would move her as much as she did until she said them. There is something about actually vocalising words that sparks an emotional reaction that reading them or saying them in our heads doesn't. I can listen to the song Scarlet Ribbons without having to reach for the Kleenex, but if I try to sing it, I'm blubbering in seconds. Now it would take a hard heart indeed not to have felt for Theresa May that this point. Finally we saw the soul of the Maybot and for many of us that will be our most abiding memory of her. Well, that and Dancing Queen.
Of course, the lesson here isn't to end your speeches by crying and evoking pity. Not at all. But the tip is to make your audience feel something as you end. Make them laugh, make them feel proud, make them feel hopeful… Whatever. Just make them feel.
"Although I am a lawyer, it's been a long time since I've given a speech. So when I was asked to give a talk at a fundraising event at which other presenters, some of whom were MPs and CEOs, would speak, I knew I needed some top-notch support. Emma was just that. She looked at my first draft and, politely, let me know how overwritten and meandering it was. She 'did surgery' on it and helped me find humorous moments so that it had tonal range. She helped me with delivery too; I had no idea how wobbly I was! I was nervous before I gave the speech but seconds in I actually began to enjoy it. And so many people came up to me afterwards and commented that mine was the best of the evening! I was so surprised, but very happy. Yet I know, they wouldn't have said that if it hadn't been for Emma's input. She's excellent."