Speech of the Month, May 2020 - Frank-Walter Steinmeier
Frank-Walter Steinmeier skillfully drew a contemporary parallel to enhance his VE Day speech. But how to find good parallels for everyday presentations...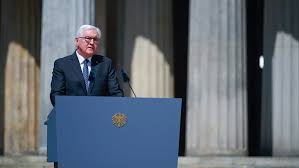 How was your VE Day? Mine was smashing. A sunny street party with bunting blowing in the balmy breeze while I, mildly under the influence of gin, never let the breeze up dancing to 'Knees up Mother Brown' and other 1940's cockney boozer belters. The day was a happy break from the boredom of lockdown so I probably didn't think about what it signified enough. That said, it's always going to have a feel-good quality because it celebrates the allies defeating the Nazis and ending one of the most tyrannical and evil regimes the world has ever known.
But what happens if you're German? How much of a feel-good day is it then? Well it's not. It's a day of reflection and acceptance that Germans take very seriously. This VE Day a commemoration had been planned to take place in Berlin but, due to Covid-19, that couldn't happen. Nonetheless, the German President, Frank-Walter Steinmeier, gave an address to mark the day. It was an excellent speech, well-crafted and sincere - click here if you'd like to read it, but the aspect I want to bring your attention to - because he did it so well and with not very much effort you could do too - is the way he drew a clear parallel between the loneliness Germany felt after the end of WW2 with the loneliness that individuals are struggling with because of coronavirus.
"The COVID-19 pandemic has compelled us to commemorate this day alone – separated from those who mean so much to us, and to whom we are so grateful.
Perhaps this state of being alone will for a brief moment return us in our minds to 8 May 1945. On that date the Germans really were alone. Germany had suffered military defeat, political and economic ruin, and moral collapse. We had made enemies of the entire world.
Today, 75 years later, we are forced to commemorate alone, but we are not alone! That is today's good news. We live in a vigorous and well-established democracy, in the thirtieth year of a reunified Germany, at the heart of a peaceful and united Europe. We are a trusted member of the international community and we reap the fruits of cooperation and partnership around the world. We Germans can definitely now say that the day of liberation is a day of thanksgiving!"
It's a clear and appropriate parallel which can't not inspire optimism. No matter how lonely and isolated Germans might be feeling because of Covid-19, it can't be comparable to the loneliness and isolation that their parents, grandparents and great grandparents felt on 8 May 1945. And yet, they overcame.
It's quite unusual to give a speech about the past and draw a contemporary parallel. For most presentations and speeches, the main issue is current but some information or nod to the past can be added to give the address more texture, interest or poignancy. But history is a huge haystack; how can we find that neat parallel needle within it?
Well here's what I recommend…
What date are you giving your presentation on? Look to see what has happened in history on that date. Are there any pertinent parallels there?
Who was born on that date? Is it someone you admire and, if giving a persuasive speech, what qualities did they extoll that link to your message?
Was something published on that date or even in that week in history that you can quote? I attended a wedding where, in his speech, the groom stated that it was 80 years to the day since the first production of the musical 'Anything Goes' – his wife loves musicals – and then he started to quote lyrics from 'You're the Top', one of the show's big numbers, to his bride. It was a sweet and glamorous parallel.
Where are you giving your talk? If for instance I were to give a talk to welcome a new team to my firm following a merger and I were giving it meters away from the Midland Hotel in Manchester, where the famous meeting between Charles Rolls and Henry Royce took place, then I might start with that and finish my intro by saying how hopeful I am that our union will produce similar success.
Whatever parallel you settle on, the important thing is that you introduce it early and return to it later in your speech as Steinmeier did when he said, "I am well aware that this year 8 May comes at a time of great upheaval and great uncertainty. Not just because of the COVID-19 pandemic, but very much exacerbated by it. We do not yet know when and how we will emerge from this crisis. But we do know the attitude with which we entered it: with great confidence in this country, in our democracy, and in what we can shoulder together."
But take care – speakers often fall in love with their parallel and give it too much air play. The parallel is only there to illuminate the key message, not become it.
"First Words: Public Speaking for Beginners is enjoyable and hugely informative. The personal feedback we received was excellent. We've already seen some great performance leaps! I'd strongly recommend this course."