Speech of the Month, May 2021 - Pep Guardiola
How is it that Pep Guardiola can cry and drop an expletive during an interview and still be liked and respected. Read on to find out...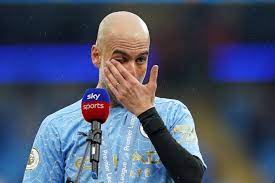 Let me be clear, I'm not saying Pep Guardiola's Sky interview is the most amazing example of oratory I've ever seen or heard. How can it be when it's Q&A? But what he does during it is execute (possibly unknowingly) a few techniques that all presenters, from Susie in Sales to Best Man Dan, can use to enhance their public speaking. Take a look at the clip and I'll explain more…
Don't be embarrassed by raw emotion
Often it's not until we say words aloud and hear our feelings verbalised that we become moved by them. I'm sure Pep's considered Sergio Aguero a special player and person for years, but it's not until he's asked to speak about him that he gets choked up and, for a moment, simply can't.
But what works well for Pep is that he isn't embarrassed by his emotions. Imagine if a similar thing happened to Big Sam? He'd be horrified. He'd immediately fear that his heterosexuality was going to be questioned. But Pep is unembarrassed by his tears. Granted, it might have something to do with him being south European but - as with so many other southern European things - it's a good look. He simply waits till the moment has passed and then he resumes his speech.
I mentioned this because I'm being approached by wedding speakers again and wedding speakers often find themselves with unexpected lumps in their throats. And when they do, then like Pep, the best thing to do is not be embarrassed by their feelings, but wait them out. Don't try to speak or 'recover' until the intensity of the emotion has peaked.
Be generous and respectful
Pep always talks up his players and he never boasts about his own abilities. This increases his likeability. In keeping with this magnanimous tack, there's a lovely moment in the interview where, after praising Aguero and making it clear that he can't be replaced, he looks further back and mentions other players that have played a significant role in making Manchester City the club it is today.
I thought it was especially generous that he gave credit to Joe Hart, a player who Pep didn't fancy and let go the second he became manager (I'll never forget outraged fans singing 'Don't Sack Joe Hart' to the tune of 'Achy Breaky Heart') but a player who loved the club and gave it his best playing days, and should be recognised.
Re-enact key moments
Responding to a question about where the turning point came for City in the season, Pep talks about beating Chelsea away in January and thereby moving up to fifth place and, as he does it, he re-enacts the moment. "Oh, ok, we are here still. People say there is no chance for us this season and we are here." This simple technique varies the texture of the interview; it makes his thoughts and feelings more vivid and it delivers a short moment of performance – he's able to use his voice differently and really get his face involved. And because of all these reasons, it's a more enjoyable, interesting listen.
So if you are ever describing events that have happened in the past, try to re-enact elements of them to make them more impactful. And use the dramatic-present tense i.e. 'I feel sick and my throat is tightening' rather than 'I felt sick and my throat tightened' because the dramatic-present makes the events you are describing feel more immediate and it helps to heighten suspense.
"I felt confident writing my speech but delivering it was a different matter! Emma taught me tips that meant I could look into the audience and speak to guests while having the safety blanket of my written speech to hand. Everyone said I looked quite the pro!"