Speech of the Month, November 2020 - Prince Harry
Prince Harry is a master of levity. Read about what it is, why it's important and how to do it...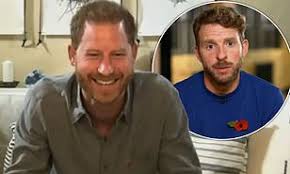 You're shocked. How's Kamala Harris not the subject of Speech of the Month?! And I understand your irritated surprise. But here's why… my first ever Speech of the Month subject was Kamala Harris, and I don't feel I've anything new to say about her style. But do take a look at that post if you fancy.
Instead I went for Prince Harry. Why? Well there I was, a couple of Saturday evenings ago, hunkered down on the sofa watching Strictly and the preamble to JJ Chalmers' jive was under way - the bit where someone pitches up to say hi and give the celeb some encouragement - and who should Zoom in as JJ's encourager but Prince Harry!
So Harry compliments JJ on his newly acquired dancer's tan and talks about when they first met and JJ replies and suddenly it all gets very earnest. The words 'inspiration' and 'journeys' and 'life-changing' are being uttered and I'm hoping that tears aren't about to flow, but I'm sensing that they are. Cringe. But before my toes curl any further, Harry sends worthiness packing. Riffing off JJ's 'impact on society' line, he said, "You're definitely having an impact on society now, especially wearing those tight blue shorts" and then more playful teasing ensued and the mood was appropriately jolly again. Phew.
Levity - humour or lack of seriousness, especially during a serious occasion – as displayed by Harry can be a hard conversational nut to crack. But I want to talk about it because being able to unleash it, at just the right moment, can be a blessed and effective communication weapon. It can show that you've listened to the speaker, you've understood them but it then moves the conversation forward in a lighter, more positive direction.
Get the moment right
There's a fine line between levity and flippancy. Knowing when humour will be appreciated and when it could trivialise and offend can be tricky. As a rule, if someone is talking about a personal bereavement or their own terminal prognosis or that of someone close to them, then never try to make light. They might, and only they have the right to.
A friend's dad, after hearing that he had six months to live, said, 'Ah well, least I don't have to write the dreaded round robin this Christmas' which made me laugh and endeared him to me all the more. History tells us that on the morning of her death, Anne Boleyn joked that she'd be light work for the executioner because her neck was so slim.
But if someone's having a moan, a rant, they're being a little too effusive, too defeatist, too negative, too detailed etc and they're in danger of becoming a bore, then levity can be just the thing to draw a line under the moment.
How to 'do' levity
There are three methods that work well when you want to lighten a mood:
Riff off a phrase or word that the speaker has said and take the conversation to a completely different and sunnier place, as demonstrated by Harry in the video.
Ask a question that shows that you've got the speaker's point and is therefore a ridiculous question. So if someone is complaining about a terrible restaurant they visited at the weekend, you might want to add levity by saying, 'So you've not booked there for this Sunday then?'
Make a comment that's the polar-opposite of the sentiment you've clearly heard. So if someone is singing the praises of their new juicer a bit too much, you might want to say, 'Oh come on, it must have some good points.'
Levity is conversational air-freshener. In a world that's got very serious, where we increasingly find ourselves in unnecessarily sombre and / or binary atmospheres, it's a communication angel. Its arrival can quickly and magically banish awkwardness and get everything back on a light, positive keel. Look out for it and master it.
"Our members all commented on how insightful and enjoyable they found Emma's 'Tell it to the Judge' workshop. It equipped them with practical and effective tips that they can immediately put into practice. Participants said they would highly recommend the event to other lawyers and, therefore, I would too"