Speech of the Month, December 2021 - Martin Lewis
Few broadcasters are as verbally arresting as Martin Lewis. Could you make more of a speech impact?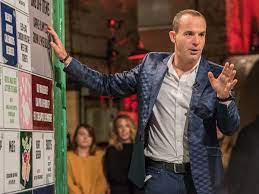 I'm someone who usually rolls her eyes at the mention of gongs and honours, but when I learnt that the financial journalist, Martin Lewis, was to be made a CBE in the New Year Honours list, I was proper chuffed. Not only am I a subscriber to his Money Saving Expert newsletter, but when the pandemic hit in March 2020 and there was talk of furlough for employees but no mention of financial help for the poor, old self-employed like me, it was a source of hope to hear Lewis raise the issue. What better advocate could a woman wish for?
Lewis is an incredibly distinct and arresting speaker. If you turn on the radio and he's mid tip, you immediately know who's speaking. If you need to reacquaint yourself with his presentation style, then click on the video below.
So here's what we can learn from him to be more arresting speakers too:
Let your passion show
Lewis is passionate – evangelical even – that people do the best that they can for their money. Whether it's reducing overdraft fees or credit card interest rates, he's desperate that nobody is paying more than they should. He very much the frugal, sensible uncle who'd be kept up at night if one of his had a shabby breakdown policy. But this passion for his subject makes him a great listen. The very fact that I – a person who's not turned on by finance and frequently struggles to remember who her mortgage is with – will turn the radio up and stop what I'm doing whenever he's on, is a massive compliment.
Now I know that being a financial crusader and batting for those who face financial hardship probably feels like more of a worthy cause than the topics you have to raise – and you're probably right. But if you're selling windows, dentistry tools or verruca socks, then it's even more critical that you're excited about your product; that you make the case for purchase with the same urgency that Lewis makes for switching home insurance provider.
Introduce an antagonist
Lewis uses a very basic but effective storytelling device when he presents; he casts you as the protagonist, the sympathetic goodie who has hurdles to face and he casts the business world as the baddie; the evil elf who's out to rob you and mock you for your easy-going, trusting nature at every turn. And because of this, because none of us wants to feel shafted, we're motivated to act and follow the advice he sets out.
So from now on think if you can introduce an antagonist. Who or what is the baddie whose trickery your audience won't stand for or be motivated by?
Emphasise key words
As Lewis speaks, he really stresses key words so that they land in listeners' ears with impact. In fact, it's a hallmark of his speech style. All good broadcasters do this, especially news readers. Look out for it from now on.
There are various methods to emphasise key words: volume, pace, pitch, vowel elongation –choose to use the ones that feel natural for you.
But the difficulty is emphasising when we're speaking impromptu, as Lewis is in the video here. The best way to achieve good emphasis when speaking impromptu is actually to start with script or prose. Read the first couple of paragraphs or a Dickens novel, for instance, then decide which words you should emphasise for the piece to really come alive, and then read it aloud hitting those key words. The more you do with script, the more the habit will filter into your 'off the cuff' speech.
If you enjoyed this article, then maybe try some of my other blog posts.
And if you feel you could benefit from more storytelling awareness or vocal range, then get in touch.
"Although I am a lawyer, it's been a long time since I've given a speech. So when I was asked to give a talk at a fundraising event at which other presenters, some of whom were MPs and CEOs, would speak, I knew I needed some top-notch support. Emma was just that. She looked at my first draft and, politely, let me know how overwritten and meandering it was. She 'did surgery' on it and helped me find humorous moments so that it had tonal range. She helped me with delivery too; I had no idea how wobbly I was! I was nervous before I gave the speech but seconds in I actually began to enjoy it. And so many people came up to me afterwards and commented that mine was the best of the evening! I was so surprised, but very happy. Yet I know, they wouldn't have said that if it hadn't been for Emma's input. She's excellent."