One To One Coaching
One-to-One public speaking coaching is an ideal training solution for individuals who want a personal and confidential service. Delivered in Manchester and Cheshire.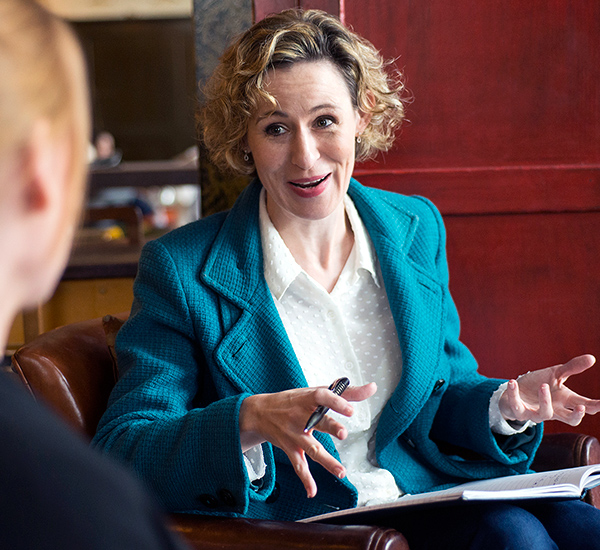 Achieving Poise and Polish
The one-to-one service is very much client led. You tell me how you wish to improve and we work together until this is achieved.
Some clients want me to help them achieve a specific speech goal. This might be
Defining and structuring a keynote speech
Rehearsing a speech for conference
Preparing for interview and interview presentations
Writing and directing them through filmed presentations / videos
Structuring and delivering a wedding speech or eulogy
Fine-tuning audition speeches
While other clients want help to generally improve in various 'performance' scenarios. I've worked with clergymen who want to connect with churchgoers, solicitors who want to perform better in court, salespeople who want to enjoy pitching and be more successful at it, managers who've been promoted to leadership roles and need to make inspirational speeches... I also work with clients who want to soften their accents.
While I'm keen to cure the problem areas, I also make clients aware of what they do well innately and work to enhance these qualities.
Confidentiality is at the heart of this service. Clients take all the transformation credit for themselves!
"My sales pitches used to put audiences to sleep. They were too detailed and gave far too much background. Emma taught me how to make a case for the information and apply some storytelling techniques. My conversion rates have gone up dramatically."
How the Service Works
The time we spend together varies depending on the brief.
For those who are working towards a specific speech, we might meet for 2 x 90-mins sessions. For those who want to improve generally, we might see one another six times over a year.
The coaching can happen in clients' workplaces - this is usual for those whose coaching is being funded by their firm or organisation as part of their personal development plan. But for those who are self-funding, the coaching happens at a venue in Altrincham, south Manchester.
Find out more about my credentials.
"I considered myself a decent presenter but when I learnt I'd be giving my first speech at conference, I wanted some expert support. Emma gave me that. She helped me define my message, hone my arguments and produce laughs. I've always wanted to do a TedX, and now I feel confident enough to apply."
Let's Talk!
All training courses can be tailored to suit your needs. To chat through in more detail or find out any further information, give me a call on +44 (0)7973 933782 or if you prefer I can call you.