First Words: Public Speaking for Beginners
Teaching Staff at All Levels to Connect with and Win an Audience
Overview
First Words is a two-stage workshop that ensures findings, advice and ideas are presented confidently and persuasively. The course instills simple techniques of preparation and delivery; including classical acting tips that enhance performance skills.
Live examples, group discussion and delivery of a new speech / pitch make this a practical and enjoyable course.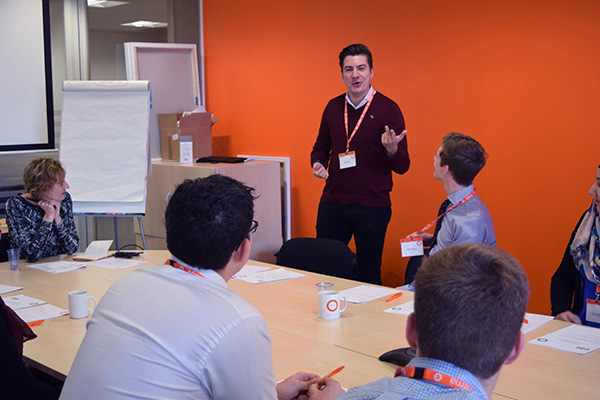 Outcomes
By the end of the First Words workshop delegates will know how to:
Understand the needs of any target audience
Structure a compelling presentation
Vary the narrative texture of their presentation
Apply the three classic rhetoric principles - ethos, logos and pathos
Remember key points when seemingly 'speaking off the cuff'
Make the didactic, information-giving presentation enjoyable
Use PowerPoint as a prop - not the driver
Make slides look interesting, not complex or 'busy'
Use their gestures, faces and voices to complement the verbal message
Look confident and sound confident
Manage adrenaline
Prepare for awkward questions
Course Details
Course length:

Two one-day sessions, with a break of approximately one week between sessions. Session one is a group course that focuses on presentation theory and delivery exercises; session two is a day or two half-days of one-hour one-to-one coaching sessions.

Maximum delegates:

Ten people

Course fee:

£800 for session one. Session two is charged at £100 per delegate. Travel expenses are additional.
Four hours preparation time is typically needed to produce approapriate handouts for session one. This is charged at £70 per hour.
"First Words: Public Speaking for Beginners is enjoyable and hugely informative. The personal feedback we received was excellent. We've already seen some great performance leaps! I'd strongly recommend this course."
Let's Talk!
All training courses can be tailored to suit your needs. To chat through in more detail or find out any further information, give me a call on +44 (0)7973 933782 or if you prefer I can call you.